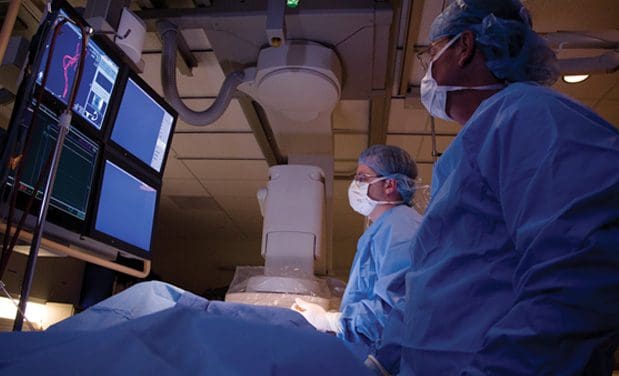 Memorial Hospital wants your stay with us to be as pleasant as possible.
Our attention is focused on you, and meeting your needs is our first objective. It's all part of our mission to provide exceptional care and compassionate service.
Hospitalists
Memorial has inpatient hospitalist services at Memorial Hospital Belleville and Memorial Hospital Shiloh. Hospitalists coordinate all orders throughout your hospitalization and execute your clinical treatment plan to ensure coordination of care from admission to discharge. These board-certified physicians are available 24/7 and focus solely on inpatient care.
ID Bracelet
Upon admission, you will receive an identification bracelet. It is vital in assisting Memorial's personnel in correctly identifying you.
Your care providers should ask you your name and date of birth before you are given medications, treatments, or procedures, and they will make sure your answer matches your ID band. It is okay to remind your care providers if that is not done.
Personal Items/Valuables
Memorial Hospitals are not responsible for money or valuables you keep in your room.
Recording Devices/Cameras
Please do not record or photograph anyone at Memorial, including employees, without their permission.
Call Button
The call button on your bedside control signals the nurses' station. Press the button, and when your call is answered, state your request in a normal speaking voice. The TV remote control and overhead light controls are also located on your bedside control. Your nurse will demonstrate how the controls work.
Memorial offers a variety of equipment to meet the needs of patients with communication barriers. Please express your communication needs to staff so that we can provide accommodations to you during your stay.
Telephone
For local calls, dial "9," and then dial the number. For other calls, please use your cell phone or dial "0." If you make too many long-distance calls, we might limit them.
Important Telephone Numbers
To call departments from within the hospitals, dial the department's five-digit extension.
Memorial Hospital Belleville
Main number: (618) 233-7750
| | |
| --- | --- |
| Administration | 75646 |
| Auxiliary | 75545 |
| Chaplain | 75291 |
| Dietitians | 75398 |
| Health Information (Medical Records) | 75335 |
| Housekeeping Services | 75140 |
| Infection Protection | 75190 |
| Information/Patient Room Location | 75500 |
| Memorial Care Center | 75060 |
| Nursing Administration | 75210 |
| Outpatient Dietitian | 74377 |
| Patient Accounts | 75523 |
| Patient Advocate | 75662 |
| Security | 75502 |
| Social Services | 75420 |

Belleville Nursing Unit Phone Numbers
| | |
| --- | --- |
| 1 Center | 75825 |
| 2 Center | 74480 |
| 1 South | 75800 |
| 2 South | 75831 |
| 4 South | 75820 |
| 2 Northeast | 75790 |
| ICU | 75847 |
| IMCU | 75150 |

Memorial Hospital Shiloh
Main number: (618) 607-1000
| | |
| --- | --- |
| Administration | 21110 |
| Auxiliary | 23131 |
| Dietitians | 23192 |
| Family Care Birthing Center | 23300 |
| Health Information (Medical Records) | 23141 |
| Housekeeping Services | 23013 |
| Information/Patient Room Location | 23660 |
| Nursing Administration | 23213 |
| Pastoral Care/Chaplain | 23100 |
| Patient Access/Financial Services | 23623 |
| Security | 23272 |
| Social Services | 23139 |

Shiloh Nursing Unit Phone Numbers
| | |
| --- | --- |
| Main | 21000 |
| House Supervisor | 23214 |
| ICU | 23040 |
| 3rd Floor Nurses' Station | 23300 |
| 4th Floor Nurses' Station | 23400 |
| 5th Floor Nurses' Station | 23500 |