Memorial Foundation seeks to improve health, wellness, and related services throughout Memorial.
Siteman Healing Garden at Memorial Hospital Shiloh
Research has shown that engaging with nature has multiple health benefits and presents an opportunity to improve outcomes. As part of Siteman Cancer Center at Memorial Hospital Shiloh's overall plan of care for its patients, architects have been very deliberate in facility design to incorporate nature to help patients and their families feel more relaxed during a very stressful and uncertain time in their lives.
In addition to the already peaceful and beautiful park-like setting on the Memorial Hospital Shiloh campus, a Healing Garden has been incorporated into the Siteman at Memorial Hospital Shiloh's design. This space provides a place for patients, families, and caregivers to find comfort, manage anxiety and stress, and find a healing environment—things they might not have elsewhere. It also helps create awareness that everyone is part of the cancer journey.
Gardens and landscaped areas are beneficial in treating patients with cancer by:
Helping patients achieve a sense of self control.
Encouraging social support.
Offering opportunities for movement and light exercise.
Providing soothing distractions.
As part of Siteman Cancer Center's overall care plan for its patients, our architects were very deliberate in the design of the Shiloh site in order to maximize the property's beautiful park-like setting. Thanks to funding from Memorial's Auxiliary as well as other generous donors, Memorial Foundation was able to enhance this space with seating, shade sails and landscaping.
We want to continue enhancing this space as well as provide a place to recognize donors and honor/remember loved ones. Gifts will be acknowledged based on the size of the gift with a colorful metal butterfly placed in the garden.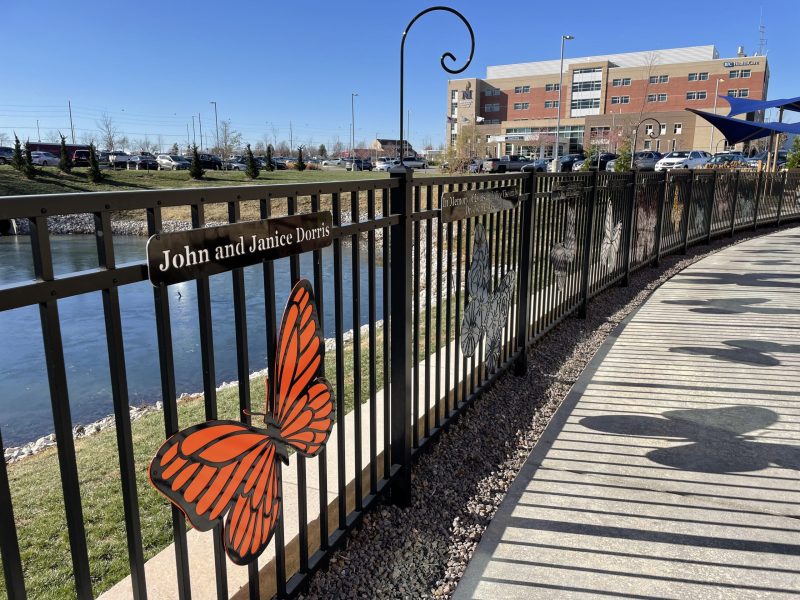 Donor recognition
Gift Size Size of butterfly
$500 to $4,999 2-foot wingspan
$5,000 to $14,999 2.5-foot wingspan
$15,000 to $29,999 3-foot wingspan
$30,000 to $99,999 3.5-foot wingspan
$100,000 to $199,999 4-foot wingspan
$200,000+ 4.5-foot wingspan
Butterflies symbolize change and transformation . . . comfort, hope and positivity.
The Healing Garden at Siteman Cancer Center in Shiloh offers a peaceful setting and provides a space for patients, families, and caregivers to find comfort, manage anxiety/stress and enjoy the natural surroundings on the Memorial Hospital Shiloh campus.
"We delight in the beauty of the butterfly, but rarely admit the changes it has gone through to achieve that beauty." – Maya Angelou
In addition, contributions designated for the Garden will go toward your cumulative giving to the Memorial Foundation and recognized as such on the donor wall. Gifts can be made by cash, credit card, or check. To make your donation, please call the Memorial Foundation at ( 618) 257-5659 or click the link to donate online.
Healing Arts Program
Memorial Foundation's Healing Arts Program provides an opportunity for donors to select artwork for designated spaces on our hospital campuses. Learn more about the Healing Arts Program at Memorial Hospital Belleville and Memorial Hospital Shiloh online or by calling ( 618) 257-5659.