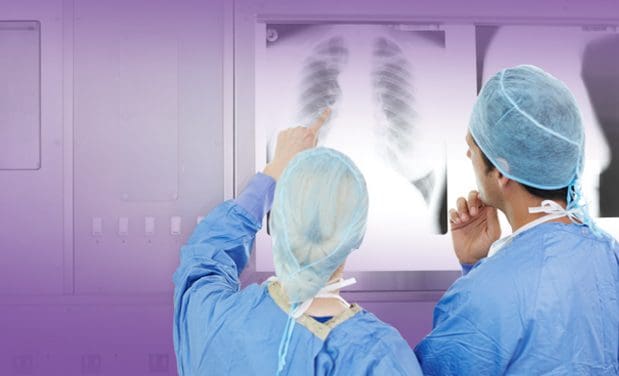 Most of us breathe without giving it a second thought. For those with chronic obstructive pulmonary disease (COPD) or restrictive lung disease, it's a constant effort.
Pulmonologists in BJC Medical Group of Illinois (formerly known as Memorial Medical Group) diagnosis and treat all lung diseases. They offer a complete range of office and hospital-based diagnostic and therapeutic services for patients who need care or rehabilitation for breathing problems. Using the latest technology, our caring and compassionate staff will help you learn to breathe again. In our BJC Medical Group of Illinois office locations, we provide pulmonary consultation and follow up, chest x-rays, pulmonary function testing, and arterial blood gas analysis.
Respiratory Care Services
Memorial offers both inpatient and outpatient respiratory care services using medication and non-medication therapies. With two full-service Pulmonary Function Labs, we can test you bedside, before and after surgery, and more to see exactly how well your lungs are functioning at a given time.
Through pulmonary exercise stress testing we can detect asthma or find out if your disease is a cardiac or pulmonary issue.
A physician referral is required to use Memorial's respiratory care services.
What We Treat
Asthma
COPD
Chronic lung infections/pneumonia
Histoplasmosis
Pulmonary fibrosis
Pulmonary hypertension
Sarcoidosis
Sleep apnea/sleep disorders
Awards
Recipient of the HealthGrades Pulmonary Care Excellence Award™ for 2 Years in a Row (2012-2013)
Ranked Among the Top 10% in the Nation for Overall Pulmonary Services for 2 Years in a Row (2012-2013)
Five-Star Recipient for Overall Pulmonary Services for 2 Years in a Row (2012-2013)
Five-Star Recipient for Treatment of Chronic Obstructive Pulmonary Disease for 3 Years in a Row (2011-2013)
Pulmonary Rehabilitation
Our Pulmonary Rehabilitation Program helps:
Improve physical strength
Improve exercise capacity
Reduce perceived breathlessness
Reduce anxiety and depression associated with COPD
Improve health-related quality of life
Reduce the number of hospitalizations and days in the hospital
Improve recovery after hospitalization
Enhance the effects of bronchodilators
Improve survival
Pulmonary Rehabilitation's primary goal is to reduce symptoms, improve quality of life, and increase physical and emotional participation in everyday activities. The components of Pulmonary Rehabilitation include exercising training, smoking cessation, nutrition counseling, and education.
Staff
The programs are conducted by our staff, which includes respiratory therapists, registered nurses, and exercise physiologists specially trained in pulmonary rehabilitation.
Outpatient Pulmonary Rehabilitation requires a physician referral. The patient and professionals work together to increase skills to manage their respiratory illness.