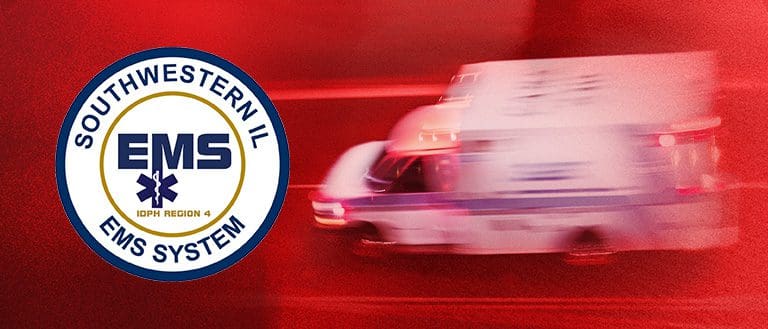 The Southwestern Illinois EMS System has been an approved Resource Hospital by the Illinois Department of Public Health since March 25, 1976.
This allows the hospital to operate the Southwestern Illinois EMS System, which is "an organization of hospitals, vehicle service providers, dispatch centers, and personnel approved by the Department in a specific geographic area, which coordinates and provides pre-hospital and inter-hospital emergency care and non-emergency medical transports at a BLS, ILS, and/or ALS level pursuant to a System Program Plan submitted to and approved by the Department and pursuant to the EMS Regional Plan adopted for the EMS Region in which the System is located." (Section 3.20 of the Illinois EMS Act)


Currently, the EMS System includes services that cover Clinton, St. Clair, Madison, Monroe, and Randolph Counties. The Southwestern Illinois EMS System provides paramedic training and continuing education for local EMS providers.
Mission
The Southwestern Illinois EMS System is one of six EMS Systems within the Illinois Department of Public Health EMS Region IV. Our members are dedicated healthcare professionals, focused on furthering the advancement of pre-hospital emergency care through evidence-based practices. This allows us to provide the best care and outcomes for the patients in the communities we serve.
Agency List
Hospitals
Memorial Hospital Belleville
Memorial Hospital Shiloh
Touchette Regional Hospital
Memorial Hospital of Chester
Red Bud Regional Hospital
Sparta Community Hospital
Transport Services
Abbott EMS – Belleville
City of Columbia EMS
Dupo Fire Department
City of Mascoutah EMS
Medstar Ambulance, Inc.
Millstadt EMS
Monroe County EMS
City of New Baden EMS
City of New Athens EMS
Non-Transport Services
Aviston Fire Department
Beckemeyer-Wade Township Fire Protection District
Caseyville Fire Department
Casino Queen, Inc.
Clin-Clair Fire Protection District
Evansville Fire Department
Germantown Fire Protection District
Hecker Fire Protection District
Hoffman Fire Protection District
Huey-Ferrin-Boulder Fire Protection District
Marissa First Responders
Mascoutah Fire Department
Prairie Du Rocher Fire Department
Prairie State Generating Company
Red Bud Fire Department
Region IV Regional Medical Emergency Response Team (RMERT)
Santa Fe (Bartelso) Fire Protection District
St. Libory Fire Department
State Park Fire Department
Steelville First Responders
Tilden Fire Protection District
Valmeyer Fire Protection District
Wheatfield Township Fire Department
Communication Centers
Abbott EMS – St. Louis
City of Belleville
City of Columbia Police
City of O'Fallon – MECOM
Medstar Ambulance, Inc.
Monroe County Sheriff
St. Clair County – Cencom East
St. Clair County – Cencom West