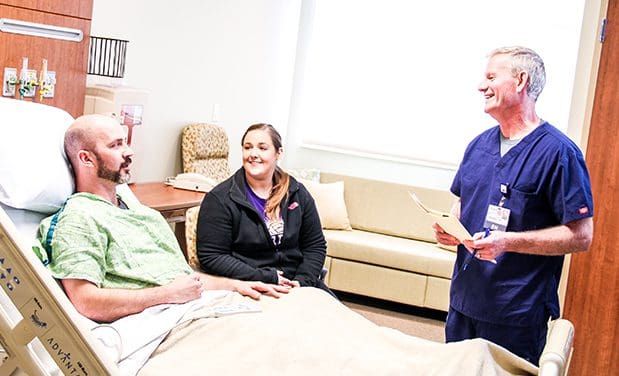 We're committed to the health and safety of our patients, families and community.
Effective Wednesday, March 23, the following visitor management changes will be implemented:
Memorial will revert to pre-COVID visiting guidelines except for COVID+ and PUI patients.

Visiting hours for both Belleville and Shiloh are from 11 a.m. to 9 p.m.
Pre-COVID Visitor Guidelines simply states, no more than three Visitors unless specified otherwise. The only other areas specified are the ICU and Emergency Department – 2 visitors at a time. Children under 14 with special arrangements.
Confirmed or suspected COVID-19 patients in inpatient and ICU settings may have 2 designated visitors (age 18 or older) during their entire stay, with one allowed at the bedside per day.

Masks are still required to be worn while in the hospital.
Entrance D will be reopened for patients and visitors.
Updated Family Care Birthing Center Visitor Information Effective October 2022
Effective immediately, visitors to Memorial's Family Care Birthing Center must be 12 years of age, including siblings. Cold and Flu/RSV/COVID-19 has hit the St. Louis-Metro region. To protect the health of our patients, we will be restricting visitation in the unit. Protecting our patients is our top priority. We apologize for any inconvenience this poses for your family. Please let us know of any questions or concerns.
After Normal Visiting Hours
Safety and Security gives passes to visitors who stay after normal visiting hours. These visitors might be staying because the patient is not doing well. Only one visitor per patient may stay in the patient's room (if in a private room) after normal visiting hours. Visitors cannot stay overnight in a semi-private room. If you are in a semi-private room, we ask that you and your visitors respect your roommate's need for quiet and privacy.
Visitor Conduct
Visitors should not sit on patient beds.
Children must be with an adult at all times.
Children under age 6 can visit if the nursing staff approves.
If you are ill, please do not visit.
Zero Tolerance Rule
Memorial Hospitals have a zero tolerance rule. Verbal aggression will not be tolerated. Physical assault will be reported to law enforcement. No member of our staff should EVER fear for their safety while performing their work of helping the community.
No Smoking
In compliance with the Smoke Free Illinois Act and to promote health and wellness in the community, Memorial Hospital, Memorial Care Center, its diagnostic and physical therapy centers, and its medical office centers are tobacco free. Tobacco use of any kind is not permitted on any of Memorial's properties.
The Smoking Policy also applies to the use of electronic cigarettes. The use of electronic cigarettes and vaping devices is prohibited wherever smoking is prohibited on any of Memorial's properties.
Smoking cessation resources are available. For more information about the risk of smoking and how to quit, ask your nursing staff, or call the American Lung Association at 1-800-586-4872.