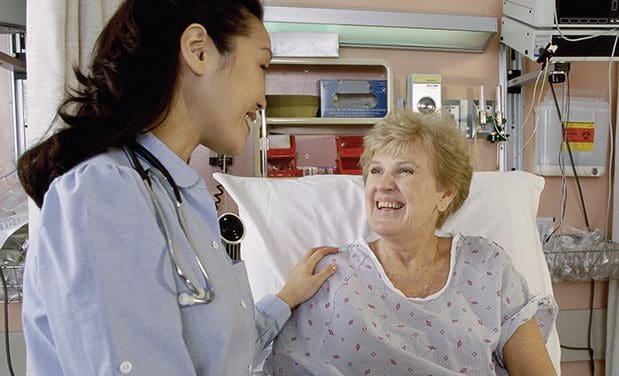 Discharge planning provides information to arrange for the care and help you need after discharge. Discharge does not mean that you are fully recovered but rather that the doctor has decided you are well enough to move to another level of care.
You may have special needs after discharge. Our Care Management team is here to help you get what you may need.
Care Management
If feel you will need help with any of the following, ask your nurse to contact the Care Management Office in Belleville at (618) 257-5341 or in Shiloh at (618) 607-3139.
Getting into the house
Walking
Bathing
Dressing
Wound care
Using the bathroom
Climbing stairs
Meals
Food shopping
Housecleaning
Getting to doctor appointments
Picking up medication
Equipment needs
Paying bills (Patient Accounts/Financial Assistance): (314) 273-1994 or 1-866-273-1994.
Additional Assistance
BJC Home Care
BJC Home Care offers comprehensive healthcare services and resources to patients in their homes throughout Missouri and Illinois.
Individualized to each unique case, BJC Home Care's patient-centered approach ensures the best possible care for patients and their loved ones. The team of nurses, pharmacists, therapists, volunteers, office staff, and other healthcare professionals is nationally recognized for continuous quality and innovations.
A central referral center coordinates care by a team of professionals, making BJC Home Care a one-stop center for home health care, offering state-of-the-art technologies with a personal commitment to patients. It is the largest home care network in the region, serving 26 counties in Missouri and Illinois. For more information, please call (314) 205-8600.
Acute Physical Rehabilitation
If you have had a new stroke or other brain injury and can do 2-3 hours of physical therapy a day, you might be able to go to a hospital that has acute physical rehabilitation. This therapy routine is intense and is short term only.
Nursing Home
You might need to go for a short- or long-term stay at a nursing home.
The home will offer skilled care like:
Physical therapy
Occupational therapy
Speech therapy
IV medications
Wound care
Medication management
A nursing home has therapy that you cannot receive at home. Staying in a nursing home also gives you more time to recover.
Assisted Living
This is housing for the elderly or people who cannot care for themselves. Meals, medical care, and other help is available to residents.
Memorial Care Center
Memorial Care Center is an award-winning facility offering high-quality, skilled nursing and rehabilitative services to the patients needing post-operative or short-term rehabilitative care.
Memorial Rehab Services
Memorial's Rehabilitation Services' specialists provide skilled and experienced physical, occupational, hand, and speech therapy using the latest individualized treatments and equipment to get you going again. They treat patients with a wide range of needs, including orthopedic injuries, neurological disorders, athletic injuries, post-operative rehab, swallowing disorders, voice disorders, and more.
Plus, our physical, occupational, and speech therapies all treat children.
Transitional Care Clinic
The Transitional Care Clinic (TCC), located on the Memorial Hospital Belleville campus, provides examination, education, resources, and support to keep you healthy and out of the hospital. The TCC team has a nurse, nurse practitioner, pharmacist, social worker, and dietitian to help you with your needs. The team manages your care with your doctors.
Transitional Care Clinic……………………………..(618) 257-4696
Heart Failure Educator………………………………(618) 257-5797
COPD Educator……………………………………….(618) 257-5121
Nurse Practitioner…………………………………….(618) 257-4760
Discharge Needs
We want to make sure you understand your discharge plan. Please talk with your nurse about how we can help if you have questions like the following:
Do I need rehab or home health care?
Where will I go after discharge?
Who will help me when I go home?
What medical equipment do I need (CPAP/BiPap, nebulizer, oxygen, walker, cane/crutches, hospital bed)?
Have I received my home medicine list?

Do I understand the reason for taking each of these medicines?
Do I know how to use my inhalers?
Do I know how to inject my medicine (insulin)?

When is my follow-up doctor's appointment?
Am I waiting on lab/test results?
Do I have upcoming testing following discharge (labs, X-rays, heart tests)?
Do I need a work or school release?
Do I need a release to drive?
What symptoms should I watch for after leaving the hospital?
Do I have my dialysis center information?
If I have COPD or heart failure, have I talked to my doctor about an appointment with the Transitional Care Clinic (located on the Memorial Hospital Belleville campus)?
What other questions do I have about managing my health?