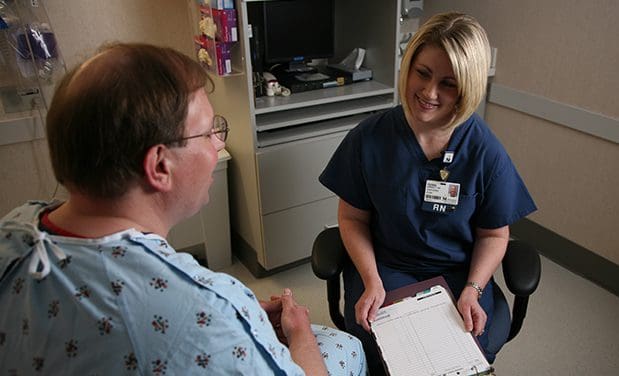 Preparation the morning of your colon surgery is important. Be prepared by following these guidelines.
Shower or bathe with antibacterial soap, such as Dial or Safeguard and wear loose fitting clothes to the hospital. Do not apply lotions, cologne, perfume, deodorant, makeup, powder or nail polish. You will receive a skin prep with a special germ-killing chlorhexidine (CHG) product upon arrival to the hospital. Take any medications your doctor has instructed you to continue with a sip of water.
Bring to the Hospital
Here's what you need to bring to the hospital:
ERAS-Colon Surgery Booklet
Denture case and glasses with a case, if you have them
Hearing aides
Wear comfortable, loose clothes
C-PAP/BiPAP equipment – empty all of the water from the equipment before packing
Your favorite brand of sugarless chewing gum – after surgery, you will be asked to chew gum to help your intestines get back to normal
Personal belongings can be given to your family or kept in a locker until you go to your room.
Do not wear makeup/cosmetics to the hospital on the day of surgery.
Items to Leave at Home
Here's what you need to leave at home:
All jewelry – this includes any and all body piercings
Valuables – leave valuables and money at home
Contacts – wear glasses on the day of surgery
What to Expect
Here's what to expect after you check into the hospital:
After checking into the hospital on the day of your surgery, you will be taken to the pre-op area with your Healing Partner.
A nurse will answer any questions that you have, start your IV, and get you ready for surgery.
A member of the anesthesia care team will talk to you about your anesthesia and pain management options that were discussed during your ATC visit. If a regional block or epidural catheter is part of the plan, you will be taken to a holding area where this will be placed by the anesthesiologist. You will remain in this area until you go into surgery.
As an added safety measure, you will be asked several times to give your name, your birth date, any allergies, and the surgery you will be having. This information is on your chart and all team members will confirm it before surgery begins.
You may be given a warming blanket that will blow warm air through a hose. Your nurse can turn the temperature down if you feel too warm, but it is important that you wear it until you are taken to the operating room.
The nurse preparing you for surgery will help you put on inflatable massaging leg coverings that will help to prevent blood clots.
At Memorial, anesthesia is provided by a board-certified anesthesiologist and certified registered nurse anesthetists (CRNA's) from Anesthesia Associates of Belleville. These physicians are independent practitioners and are not Memorial's employees or agents.