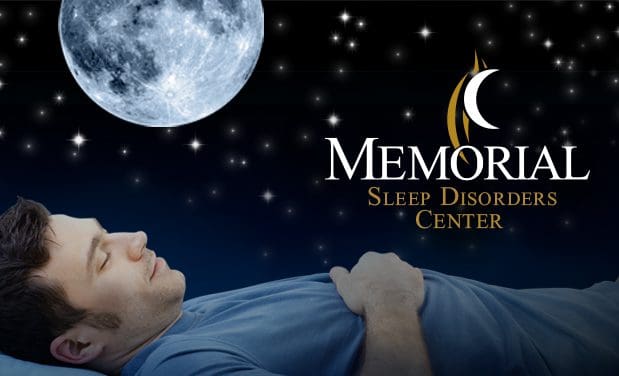 A good night's sleep is essential to good health. However, many people have sleep disorders that go unrecognized for years.
They may feel fatigue, depression, or other symptoms. Whether you're sleeping too much, too little, or somewhere in between, Memorial Sleep Disorders Center can help. Our mission is to provide state-of-the-art evaluation and treatment of all sleep disorders in a caring and compassionate environment.
Memorial Sleep Disorders Center at Memorial Hospital and in O'Fallon are accredited by the American Academy of Sleep Medicine. We treat all types of sleep disorders using the latest techniques and comfortable accommodations.
Our Staff
Memorial Sleep Disorders Center is staffed by physicians specially trained in sleep medicine and board certified in sleep medicine and pulmonology (diseases of the lung). Our technical staff includes registered polysomnographic technologists. Other specialists such as a psychologist, neurologist, and otolaryngologist, as well as dietitians, are available as needed.
Sleep Disorder Symptoms
Here are some symptoms that are common of sleep disorders:
Excessive daytime sleepiness
Continual loud snoring
Consistently waking up with a headache or being as tired as when you went to bed
Falling asleep at inappropriate times (e.g. while driving a car or watching a movie)
Feeling a choking sensation while sleeping or when aroused from sleep
Unusual behavior during sleep, such as acting out dreams, bedwetting, or sleepwalking
If you experience persistent signs and symptoms of a sleep disorder, do not ignore them. Left untreated, sleep disorders like sleep apnea can lead to other serious health problems.
Home Sleep Testing
If the sleep physician deems that a home sleep test is appropriate after consulting with the patient, a sleep study can be performed using home testing equipment provided by Memorial Sleep Disorders Center at Memorial Hospital.
After thorough instruction with a sleep technologist during a daytime visit, the patient takes the unit home and applies three sensors prior to going to sleep. The following day, the equipment is returned to the sleep center for analysis.
Adolescent Sleep Program
We now accept patients 13 years of age and older for sleep studies for signs and symptoms including behavioral problems, difficulty concentrating in class, new difficulty maintaining grades, increased car accidents for teens who are of driving age, excessive caffeine intake, decreased sports performance, snoring, unusual behaviors at night, excessive daytime sleepiness, difficulty sleeping at night, and increased irritability.
Appropriate testing will be ordered based on a patient and parent/guardian meeting with one of our sleep physicians.
Contact Us
If sleep, or lack thereof, is causing you problems, contact Memorial Sleep Disorders Center today.
O'Fallon
310 North Seven Hills Road
(618) 628-2502
Get Directions

Related Links
American Academy of Sleep Medicine
The National Sleep Foundation