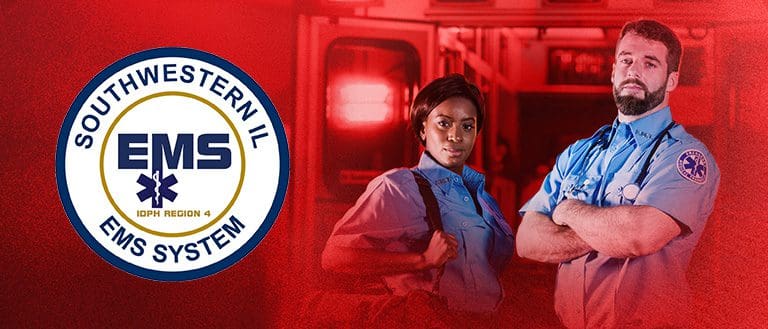 From emergency care and non-emergency transports to provider education, Southwestern Illinois EMS System is here to serve you!
About Us
The Southwestern Illinois EMS System is an organization of hospitals, vehicle service providers, dispatch centers, and personnel, which coordinates and provides pre-hospital and inter-hospital emergency care and non-emergency medical transports. Learn more about emergency medical services at Memorial Hospital.
Events
Memorial Hospital, through the Southwestern Illinois EMS System, provides paramedic training and continuing education for local EMS providers. Check out our current schedule of events.
Contact
If you have questions or would like to contact us, we are just a call or email away.
Resources
The Emergency Management Services credentialing resources: Policies, Procedures, Standard work and Forms provided are important to ensure consistent practices are utilized for EMS providers to obtain credentialing, education and testing as well as licensure the attached forms as downloads.