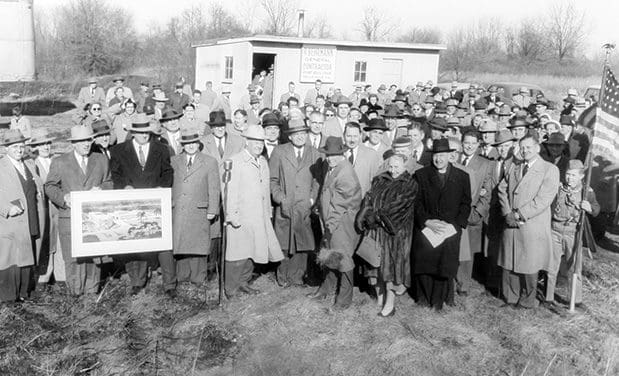 Memorial Hospital's history began not with the 1955 groundbreaking or with the 1947 corporate charter but decades earlier with the growing conviction among Belleville physicians and others that the city needed an additional hospital.
"We need new hospital facilities desperately," said Dr. Edmund Bechtold in 1920, in words which still ring with a sense of urgency and determination. "Our boys fought the Great War so that we could build a better world. Let's build it."
Within a few years, members of several Belleville Evangelical and Reformed churches (later the United Church of Christ) had embraced the hospital cause led by the Reverend Otto Pessel of St. Paul's who devised the sale of "bricks" as a fundraising plan. The bricks were sold by volunteers for $1 each and pasted onto sheets. The sale of bricks netted $4,000, which was invested and 20 years later was turned over, with interest, to the newly charted hospital corporation.
Meanwhile, however, came the Crash in 1929 and interest in building an expensive new hospital waned. But by 1935 the area's physicians were again insisting that the need was critical.
"This matter is becoming serious," Dr. R.J. Joseph said. "Unless Belleville soon creates some new hospital facilities, any epidemic or public catastrophe would be disastrous."
These concerned doctors continued to meet over the next 10 years or more, and on August 4, 1947, their years of work began to bear fruit with the incorporation of the Protestant Hospital Builders Club. The founders were the Reverend B.J. Koehler, president; Oliver C. Joseph, vice president; W.A. Schickedanz, secretary/finance director; and Walter A. Keil, treasurer.
A fund drive that year raised $400,000 in cash and pledges, and a second drive a year later added another $200,000 to the total.
"With thrift and perseverance, we of the Belleville area can do anything we set out to do," said Schickedanz, reflecting on the group's determination.
By 1953, physicians of the area had enough confidence in the hospital's future to discuss the formation of a Medical Staff. Thirty-six doctors met at the Elk's club on August 4, and elected Dr. L.E. Tegtmeier staff president. Formal organization of the Medical Staff occurred April 2, 1958, re-electing Dr. Tegtmeier as medical staff president.
By 1953, Walt Marsh became chairman of the building committee and within two years the board, acting on his recommendations, voted to sign the building contracts. On December 4, 1955, five days after the contracts were signed, groundbreaking ceremonies were held.
The board took these decisive steps even though it had not raised all the money needed to build the hospital. As the late Edward Kaufman, a board member and the hospital's first patient once said, "There comes a time when we must act on faith… to see the vision when reality is yet to come. We need a hospital. We will have a hospital."
Fundraising continued in earnest. Charles T. Meyer joined the group and co-chaired a $1,000,000 campaign in 1956-57. As Meyer recalled, the need was acute; money was so short the board elected to eliminate the air conditioning from the plans, only to restore that option after the campaign succeeded.
During the campaign, Meyer and his co-chairman Frank E. Robinson, approached the late Bishop Albert Zuroweste of the Roman Catholic Diocese of Belleville, seeking his endorsement of the hospital project to avoid even the appearance of conflict with the Catholic community. Bishop Zuroweste responded with a gracious letter supporting Memorial. The letter was read at the campaign kick-off dinner held January 9, 1957, at Belleville Township High School West gym.
During the same campaign, George Ludwig of Bellevile donated his Fairview Heights farm, valued at $250,000 to the hospital. The farm occupied land now in the heart of Fairview Heights' commercial district. For a victory celebration later that year, Ludwig too modest to appear in person, sent a recorded message: "Each of us has to do what he can with what has been given to him. The widow who gives her mite is giving as much as a millionaire. When we give to our hospital, we are only returning to the Lord what he has given us."
Over 1,200 volunteers helped in that campaign. One of them was Ruth Kempf of Waterloo. Though she was then an emergency room nurse at St. Elizabeth's Hospital in Belleville, Kempf was determined not only to do her part to see that the new hospital was built, but also to go to work there. After her retirement, Kempf was an active member of the Auxiliary until her death.
It was also in 1957, that a young hospital administrator from Fairfield, Illinois, was hired from a field of 400 applicants to head the Memorial staff. Taylor O. Braswell impressed the board with his eagerness and his willingness to embrace the vision of its founders.
"The hospital," he noted, "is not just brick and mortar. It was built as a result of a philosophy and a dream."
Braswell, whose name grew synonymous with Memorial Hospital over the years, served 29 ½ years as its chief executive officer before retiring in 1987. Braswell passed away January 19, 2017, at the age of 97.
Harry R. Maier, who served as executive vice president since 1977 to 1986 was named president and chief executive officer in 1986 – a position he held until his retirement in October 2006.
Mark J. Turner, who had served as Memorial's executive vice president and chief operating officer since 2004 was named to succeed Maier as president and CEO of the hospital and its related corporations. In 2016, Turner was named president of Memorial Regional Health Services (MRHS), the new parent corporation formed as a result of a strategic affiliation between Memorial Group and BJC HealthCare. This board has equal board representation from both parties. Turner retired in February 2020.
Michael McManus, who served as Memorial's chief operating officer since 2012, took over as Memorial's president on February 24, 2020. About three weeks later, the hospital admitted its first COVID-19 positive patient setting the tone for a truly unique first year at the helm.
In its 63-year history, Memorial has had just four presidents – a distinction not many hospitals across the country can claim.
Opening and Dedication
The official opening of Memorial Hospital the third week of May 1958 was a major event in Belleville history. The city's two papers carried articles and pictures daily, usually on the front page. The staff opened the new hospital to visitors the week prior to the dedication ceremonies. At total of 61,776 area residents toured the gleaming new facilities during that time led by Auxiliary guides.
Dedication ceremonies were held Sunday, May 18, 1958. Dr. Frank Eversull, a former board member and pastor emeritus of the First Presbyterian Church, summed up the prayers, hopes and convictions of the entire hospital community with these words: "From these halls will go forth renewed life and new life to the glory of God and the service of all mankind."
Board member Edward Kaufman was admitted the next day, Monday, May 19, the first of Memorial's patients. Eight more people were also admitted that day.
Voting Members
The following year, the board devised the Participating Voter Member Plan, whereby area Protestant churches could agree to pledge $10 per member over a five-year period and thus acquire permanent voting membership in the hospital corporation. Some 47 elected to participate, pledging as well, the support and commitment of the Protestant community to the success of the hospital and the excellence of its program.
In January 2016, the by-laws of Protestant Memorial Medical Center, Inc. were revised to eliminate the requirement for an annual meeting of voting members and voting member churches.
Firsts
In 1960, Memorial made its first stride in a long list of "firsts" among metro-east hospitals: the first Cobalt-60 radiation therapy unit for the treatment of cancer in the area opened at the hospital.
"It was very innovative at the time," said Charles Meyer, who also noted the boundless enthusiasm the hospital family felt for its work. "We thought that we were Sloan-Kettering on the Mississippi."
Other firsts in Memorial's history include:
First formal Department of Anesthesia under the direction of an anesthesiologist;
First Nuclear Medicine Department;
First formal Department of Respiratory Care under the direction of a registered respiratory therapist;
First Intensive Care Unit;
First Pulmonary Laboratory
First arteriography diagnostic equipment;
First cardiovascular service and non-invasive blood flow;
First Hyperbaric Medicine Department;
The Memorial Convalescent Center (Memorial Care Center) was purchased in 1964, thus becoming the first St. Clair County extended care facility owned and operated by a hospital. Now known as Memorial Care Center, this facility is Medicare approved. It has been named one of the best nursing homes for 11 consecutive years by U.S. News and World Report as well as is a five-star facility recognized by the Center for Medicare and Medicaid Services (CMS).
First to implement a "FAST TRACK" service for less emergent needs in its Emergency Department.
First area hospital to acquire a 3 Tesla MRI – this technology is primarily used in research facilities and Memorial was one of just a handful of hospitals nationwide to acquire this technology.
In 2013, Memorial introduced the robotic surgical system to the community used to provide minimally invasive surgery in the specialties of general services, gynecology and urology.
In 2017, Memorial Belleville opened the first true hybrid operating room in the area allowing for more sophisticated vascular procedures and the ability to move from a closed to open procedure should the need arise.
The hospital has always pursued a policy of innovation not out of a competitive spirit but because at Memorial the patient comes first.
During the height of the medical malpractice crisis, Memorial played a leadership role among area hospitals in raising awareness and support as well as worked with area political leaders and attorneys to seek meaningful solutions. Memorial also formed a captive insurance company offering physicians an insurance alternative thus keeping them in the community. It is estimated that more than 30 physicians remained in the area as a result.
Innovations/Accreditations
Memorial Belleville, Memorial Shiloh and Memorial Care Center were recognized as MAGNET facilities by the American Nurse Credentialing Center – the highest recognition in nursing. Only six percent of hospitals nationwide have achieved this designation and Memorial are the only Magnet facilities south of Springfield, Illinois to achieve this honor.
Memorial Belleville and Memorial Care Center were first designated at Magnet organizations in 2008. They were re-designated in 2012 and again in 2018 when Memorial Shiloh also became recognized for nursing excellence.
Memorial Hospital Belleville also is recognized as one of the best hospitals in the region for 2018-2019 by U.S. News & World Report. Memorial ranked fifth among the best hospitals in the St. Louis area and 19th in the State of Illinois. In addition, Memorial Belleville is listed among "high performing" hospitals for treatment of heart failure, chronic obstructive pulmonary disease (COPD), hip replacement and knee replacement.
U.S. News and World Report named Memorial Care Center as one of America's Best Nursing Homes for the 11th straight year.
Both Memorial Belleville and Memorial Shiloh have been recognized by national healthcare research leader Professional Research Consultants for outstanding patient experience.
Additionally, Memorial Belleville is an accredited Chest Pain Center with PCI by the Society of Cardiovascular Patient Care and is designated as an Acute Stroke Ready Hospital by the Illinois Department of Public Health.
Memorial Hospital Shiloh was recognized in 2020 in the top decile of its community hospitals peer group by the Vizient Quality and Accountability Ranking Program. Ranking 13 out of 135 hospitals in the cohort, Memorial Shiloh scored 71.85% in Community Hospital Quality and Accountability.
Memorial has long recognized that the healthcare needs of area residents can best be served by offering a full spectrum of services in a variety of settings. In addition to providing the comprehensive services and programs of a full-service medical center, Memorial responds to area residents' healthcare needs by providing:
The Harold and Dixie LePere Breast Health Center of Excellence as recognized by the American College of Radiology (2010) is an integrated multi-disciplinary approach to breast health featuring state-of-the-art, 3D mammography equipment, stereotactic-guided breast biopsies, ultrasound guided breast biopsies, and bone density testing. Located in the Medical Office Building on the campus of Memorial Hospital Shiloh, The Harold and Dixie LePere Breast Health Center is one of just 500 nationally accredited centers by the National Accreditation Program for Breast Health Centers and the only such accredited center in the metro east. In 2014, Memorial was the first hospital in the area to provide 3-D mammography (breast tomosynthesis).
Emergency Departments at Memorial Belleville and Memorial Shiloh. Utilizing TeamHealth, Memorial's two Emergency Departments record over 80,000 visits annually.
Children's @ Memorial provides physicians from Washington University Physicians in Illinois and St. Louis Children's Hospital
Stroke Telemedicine Services in partnership with Barnes-Jewish Hospital and Washington University Physicians in Illinois, this service is available to Emergency Department patients as well as inpatients at Memorial Belleville and Memorial Shiloh and provides immediate 24/7 access to Washington University neurologists specializing in stroke treatment
Accredited Chest Pain Center by the Society of Chest Pain Centers (Memorial Belleville only).
Both Emergency Departments utilize InQuicker so patients with non-life-threatening emergencies can reserve their place in line and wait from the comfort of their own homes.
Emergency Medical Service (EMS) Resource/RHCC Hospital for Illinois Department of Public Health Edwardsville Region.
Established the Joint Replacement Center of Excellence providing comprehensive care for patients experiencing total joint replacement procedures.
Washington University Physicians in Illinois/St. Louis Children's Hospital provide neonatology coverage in the Family Care Birthing Center nursery/
Level IIE Nursery at Memorial Hospital Shiloh Family Care Birthing Center – the only one in the Metro-East equipped to care for infants with low birth weight (less than 2.75 lbs.); premature infants of 30 weeks or more gestation and infants on assisted ventilation.
Direct Call Transfer Line to assist facilities in outlying communities in making facility to facility transfers in according to standard protocols.
Memorial's Sleep Disorders Centers, located at Memorial Belleville and at Memorial's diagnostic facility on Seven Hills Road in O'Fallon are accredited by the American Academy of Sleep Medicine.
The Pain Center at Memorial offers evaluation and treatment of patients with a wide variety of pain problems.
The Heart and Vascular Center of Excellence features a state-of-the-art cardiac catheterization and vascular laboratory as well as cardiac calcium scoring along with a team of dedicated physicians and staff dedicated to quality outcomes.
Metro East Dialysis Access Center (MHB) can provide dialysis access creation and comprehensive vascular surgical care, including minimally invasive treatments and traditional open surgical therapy.
GI/Endoscopy Lab, expanded in 2006 provides physicians, patients and their families with increased comfort and efficiency. Memorial's GI Lab is recognized by the American Society for Gastrointestinal Endoscopy (ASGE), the leading gastrointestinal medical society for quality and safety.
Magnetic Resonance Imaging offering the 3 Tesla system and an open unit featuring the Ambient experience. Memorial's MRI Center is accredited by the American College of Radiology (ACR).
Outpatient and Diagnostic Treatment Services to meet patients' needs for convenient services.
Lung Cancer Screening using CT, a low-dose non-invasive CT scan which can detect abnormalities which indicate early signs of lung cancer and opportunities to begin treatment sooner.
Wound Care Center is scheduled to open on the Belleville campus in April 2021. This clinic will offer advanced wound care for people living with chronic, non-healing wounds. Memorial has partnered with Healogics to provide this service.
The Orthopedic and Neurosciences Center, the third medical office center on Memorial Hospital's Belleville campus opened in December 2011. The 85,000 square foot facility includes physician offices for orthopedic, neurosurgeons, pain management, sports medicine, physical, occupational, speech and hand therapy. A full range of physical therapy equipment and aquatic therapy also is in the Center. An open MRI and CT scanner, both featuring the Ambient Experience, is in that building.
Athletic Training Services provides services to local high schools, universities and semi-pro soccer and hockey teams.
Palliative Care Program designed to provide the best quality of life possible for terminally ill patients and their families.
The Center for Diabetic Education, an outpatient diabetes education program that has earned the American Diabetes Association (ADA) Education Recognition Certificate.
Memorial Senior Care, an outpatient program designed to renew quality of life for adults age 60 and older who struggle with depression and anxiety issues.
Health promotions and community education/screening programs offer the community with opportunities to learn about various diseases, risks and prevention.
YMCA, an affiliation between Memorial Hospital and the YMCA of Greater St. Louis allows both institutions to provide a variety of additional wellness programs to individuals and businesses of the community by being able to utilize facilities and the expertise of combined personnel. Southwest Illinois Health Ventures jointly owns the YMCA facility on Seven Hills Road in O'Fallon.
The latest chapters in Memorial's history include:
On June 28, 2011, the Illinois Health Facilities and Services Review Board unanimously approved Memorial's plan to build a 94-bed full-service hospital in Shiloh, Illinois. This vote marked the second time in 20 years that the construction of new hospital has been approved in the State of Illinois. This project provides for all private patient beds at both the Belleville and Shiloh hospitals.
A strategic affiliation between Memorial Group and BJC HealthCare became official January 1, 2016. Memorial Regional Health Services, the parent organization of Memorial Hospital, Memorial Hospital East, Memorial Foundation, and Memorial Medical Group was created through the affiliation. This affiliation provides greater access to enhanced service lines and medical expertise, as well as an effective and progressive care delivery model close to home.
Memorial Hospital East opened April 12, 2016 to serve the healthcare needs of residents further east and north. Services will include medical/surgical services, Emergency Department, Intensive Care Unit, Family Care Birthing Center featuring LDRP suites, diagnostic services, cardiac catheterization/diagnostic cardiology, inpatient rehabilitation/PT services and physician offices.
Broke ground in October 2016 for a 70,500-square-foot medical office building adjacent to Memorial Hospital East. The building opened in October 2017 and includes outpatient diagnostic services including the Harold and Dixie LePere Breast Health Center of Excellence, laboratory and radiology services, rehabilitation services and BJC Medical Group and St. Louis Children's Hospital physician offices.
In November 2017, a Certificate of Exemption was filed with the Illinois Health Facilities and Services Review Board signaling total affiliation with BJC HealthCare. BJC fulfilled the requirements and obligations that were established by Memorial Group's board during the prior two years. Initially, the board and management of both organizations believed it could take up to five years or more to accomplish the agreed-upon goals. BJC's hospitals are recognized for retaining their unique identities and cultures, while being able to take advantage of the benefits from being part of a larger system.
In 2018, plans were announced to build a three-story, 70,650 square-foot addition to the existing medical office building which will house Siteman Cancer Center, the only National Cancer Institute-designated Comprehensive Cancer Center in the region. Opening in January 2020, Siteman Cancer Center opened its first Illinois satellite location in Shiloh. The building also houses additional physician office space as well as additional diagnostic service offerings.
Medical Building 2 also includes a PET imaging center which uses the Positive Emission Tomography (P.E.T.) scanner to provide images to detect and evaluate cancer, detect heart disease and diagnose specific neurological disorders.
In late 2020, Memorial/BJC and Encompass Health received approval from the Illinois Health Facilities and Services Review Board (IHFSRB) to build a $31 million, 47,749-square-foot, 40-bed rehabilitation institute in Shiloh. The facility is scheduled to open in early 2022.
Effective January 1, 2021, Memorial Hospital Belleville and Memorial Hospital East began operating under a single license with one provider number which will be the Memorial Hospital Belleville license and provider number. The legal corporate name will be Protestant Memorial Medical Center, Inc. (PMMCI), which is the current Memorial Hospital Belleville corporate name, and will include the operations of Memorial Hospital Belleville, Memorial Hospital Shiloh and Memorial Care Center.
With the move to one license, we had an opportunity to make some changes. One of them includes how we refer to Memorial. We have one entity with reference to a city (Belleville) and one referencing a direction (East). We felt it was clearer to the consumer and for consistency to use the city reference in the hospital nomenclatures.
Memorial will partner in operations of BJC's Outpatient Clinic in Edwardsville. Scheduled to open in summer 2021, diagnostic services, physician specialists as well as adult and pediatric convenient care will be available in this location.
In 2023, Both Memorial Hospitals were accredited as one of US News & World Report High Performing Hospitals for Heart Failure, Diabetes, and COPD.

Rev. 2/2021