Memorial Hospital Shiloh opened its doors to serve the community at 5:30 a.m. April 12, 2016.
Since then, Memorial has served over 22,500 inpatients, has had more than 132,500 emergency department visits, and was the birthplace to over 6,200 babies.
Over the past five years, the 94-acre campus has blossomed with the addition of two medical office buildings, one of which houses Siteman Cancer Center. Siteman—based at Barnes-Jewish Hospital and Washington University School of Medicine in St. Louis—is known for its exceptional cancer care. Its National Cancer Institute designation recognizes the cancer center's scientific leadership, resources, and breadth and depth of clinical and laboratory cancer research.
The first 70,500-square-foot Medical Office Building, which opened in October 2017, provides office space for primary care and physician specialists with BJC Medical Group of Illinois, St. Louis Children's Hospital, Washington University Physicians in Illinois, and Lincoln Surgical Associates as well as laboratory, imaging, rehabilitation services, and The Harold & Dixie LePere Breast Health Center of Excellence.
The 69,500-square-foot Medical Office Building 2 opened in January 2020. It features Siteman Cancer Center's first satellite center in Illinois, expansion of Washington University Physicians in Illinois services, and additional space for BJC Medical Group practices. Urologists and thoracic surgeons with Washington University Physicians in Illinois will expand services by establishing offices on the Shiloh campus.
The Siteman Cancer Center Healing Garden is blooming with colorful plants and flowers. This space provides a place for patients, families, and caregivers to find comfort, manage anxiety/ stress, and find a healing environment—something they might not have elsewhere. It also helps create awareness that everyone is part of the cancer journey.
Some exciting things are on the horizon for Memorial's Shiloh campus this year. Plans are underway to expand the Family Care Birthing Center as well as further develop a Pregnancy Assessment Center. In addition, Memorial will expand its minimally invasive surgery capabilities by adding robotic surgery to its offerings on the Shiloh campus. Memorial continues to recruit additional physician specialists to expand offerings to area residents.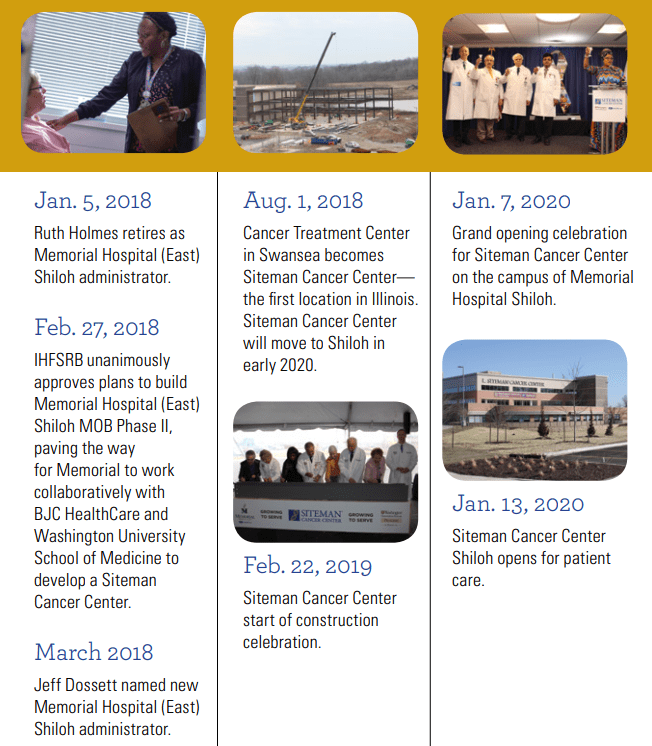 ---
Shiloh's First Baby Turns 5!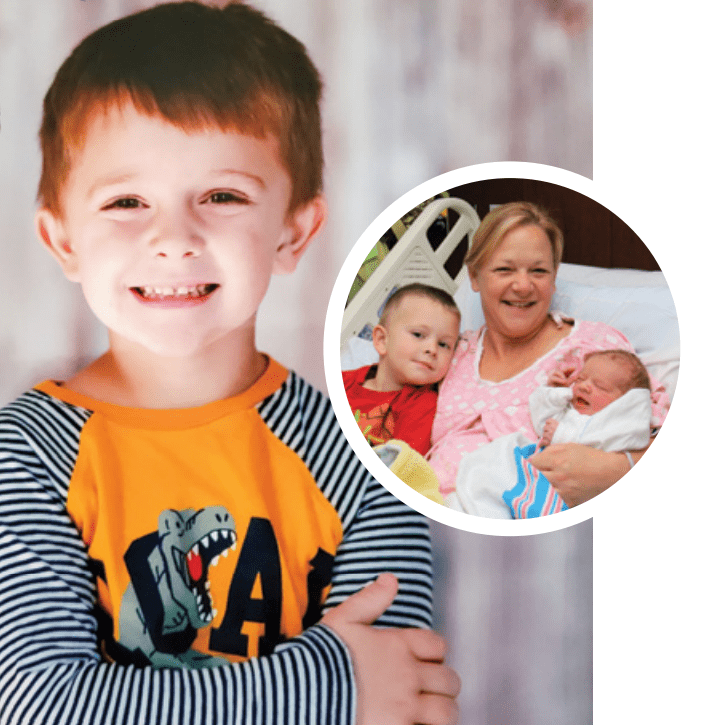 Shortly after Memorial Hospital Shiloh opened for business at 5:30 a.m. on April 12, 2016, Sasha Hanvey was admitted. And just after 9 a.m., David Hanvey, born by Caesarean section, became a celebrity as the first baby born at the new hospital. OB/GYN Dr. Adriena Beatty of BJC Medical Group of Illinois delivered the 7-pound, 2-ounce, 20-inch-long bundle of joy.
"I can't believe it has been five years," Sasha said. "Time really does fly!"
We recently checked in with Sasha to find out how David's been doing.
"David has been doing great," she said. "He is currently enrolled at Hope Christian Preschool in Columbia, Illinois, and starts kindergarten in the fall."
Now weighing in at 33 pounds and 3 foot, 6 inches tall, she said he is a "ninja" at Powerhaus Gym and enjoys swimming at the Monroe County YMCA. David also enjoys playing with his animals in the treehouse, dinosaurs, and action heroes.
"He also is a terrific big brother to Hunter, age 2, and tries to keep up with his big brother Bennett, age 9," Sasha added. "And, he does a pretty good job at it!"
David's favorite things to eat are tacos, mac-n-cheese, peanut butter and jelly, as well as CHOCOLATE! Typical five year old, right?
A tough little guy who enjoys wrestling with dad and anyone willing to take him on, he is said to be the first one to come snuggle with mommy.