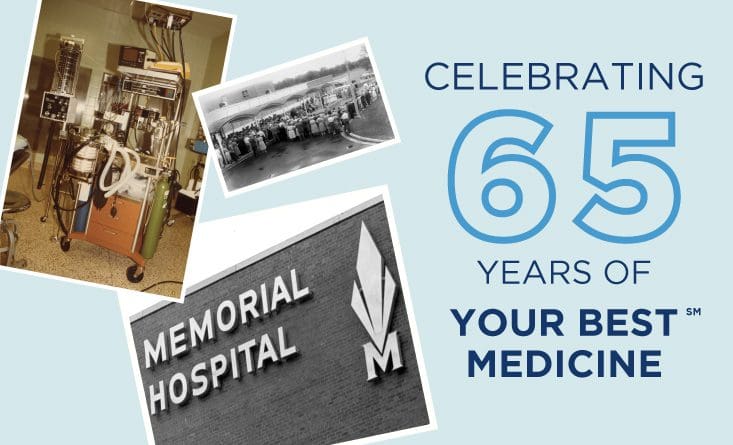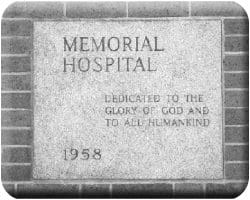 Memorial Hospital Belleville opened its doors on May 18, 1958 with the first patients, a total of nine, admitted the next day.
Memorial's rich history which began well before the doors of the hospital opened. Learn more about Memorial's history and how we've grown to be the trusted health care partner for residents in Southwestern Illinois.
---
Memorial Hospital's history began in the 1920's when a group of Belleville physicians felt the community needed a second hospital. Local protestant churches supported the cause and helped raise funds to build the hospital.
Meanwhile, however, came the Crash of 1929 and interest in building an expensive new hospital waned. By 1935 the area's physicians were insisting the need was critical. "Unless Belleville soon creates some new hospital facilities, any epidemic of public catastrophe would be disastrous," said Dr. R. J. Joseph.
---
The first fundraising effort was led by Rev. Otto Pessel of St. Paul Church and raised $4,000.
Volunteers sold bricks for one dollar each.
Memorial's roots began with area Protestant Churches; a total of 47 churches agreed to pledge $10 per member for five years to raise money to build the hospital.
---
The Protestant Hospital Builders Club was incorporated on August 4, 1947.
Founders were the Reverend B.J. Koehler, president; Oliver C. Joseph, vice president; W.A. Schickedanz, secretary/finance director; and Walter A. Keil, treasurer.
---
Groundbreaking for Memorial Hospital Belleville was held on December 4, 1955.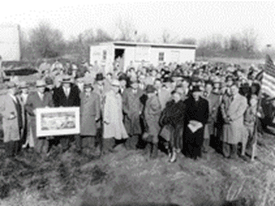 Walt Marsh was named chairman of the building committee in 1953. Two years later, acting upon Marsh's recommendation, the board voted to sign the building contracts. Five days later the groundbreaking was held.
---
A successful $1 million fundraising campaign was held in 1956-57 led by Charles Meyer and Frank E. Robinson.
During this campaign, Meyer and Robinson approached the late Bishop Albert Zuroweste of the Roman Catholic Diocese seeking his endorsement of the project. The bishop responded with a gracious letter supporting Memorial.
---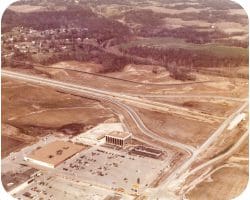 Land in the heart of Fairview Heights' business district now occupied by such places as Toys R' Us, DSW, Fresh Thyme, Hobby Lobby as well as those along Ludwig Drive was donated to Memorial back in the late 1950's.
George Ludwig of Belleville donated his Fairview Heights farm valued at $250,000 to the hospital. In a recorded message he sent to the campaign victory celebration, he said: "Each of us has to do what he can with what has been given to him. The widow who gives her mite is giving as much as a millionaire. When we give to our hospital, we are only returning to the Lord what He has given us."
---
In its 65-year history, Memorial has had just four presidents – a distinction not many hospitals across the country can claim.
In 1957, Taylor O. Braswell was hired from over 400 applicants as Memorial's first administrator. He served 29 ½ years before retiring in 1987. Braswell passed away last January, at the age of 97. Harry R. Maier assumed the role in 1986 after serving as chief operating officer since 1977. Maier retired in October 2006. Mark J. Turner, who was named executive vice president and chief operating in 2004, became Memorial's third president. In February 2020, Michael McManus was named Memorial's president after serving as its chief operating officer since 2012. About three weeks after assuming the role, Memorial admitted its first COVID patient.
---
Memorial Hospital's Auxiliary was chartered in 1957 – one year before the hospital even opened.
Dedicated volunteers made the first patient room curtains and assisted in numerous ways helping the hospital ready to open its doors. Volunteers have given nearly three million service hours and contributed over $10 million to support the efforts of Memorial Hospital.
---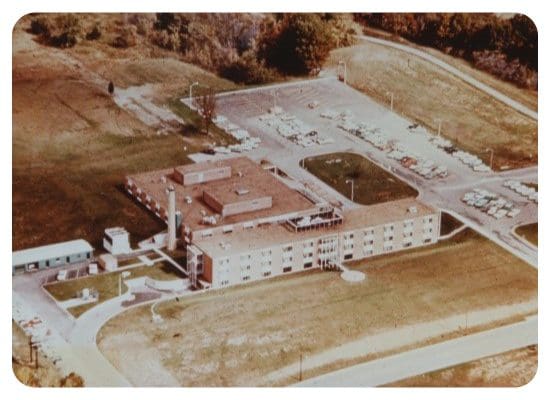 The nursing units we know today as "Center" comprised the original 1958 Memorial Hospital building.
The cost of the 62,500-square-foot, 154-bed hospital was $2.5 million.
---
Did you know the first set of twins born at Memorial Belleville are the brother and sister of a former Memorial employee Kay Schanuel?
The first set of twins – a boy and a girl – were born on June 27, 1958 at 4:10 and 4:16 a.m. to Mr. and Mrs. Fred Friedewald of Belleville. The twins reside in Belleville; their sister Kay, has worked at Memorial for over 40 years before her retirement in 2022.
---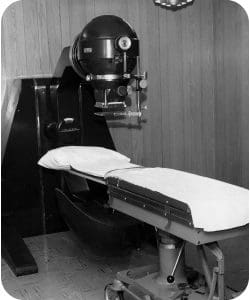 Memorial is proud of its long list of "firsts" among metro-east hospitals.
The list is a long one dating back to 1960, when the first Cobalt-60 radiation therapy unit for the treatment of cancer opened at Memorial. "It was very innovative at the time," noted the late Charles Meyer, a former board member. "We thought we were the Sloan-Kettering on the Mississippi."
Memorial pursued a policy of innovation not out of a competitive spirit but because at Memorial, the patient comes first.
Other firsts in Memorial's history include:
First formal Department of Anesthesia under the direction of an anesthesiologist
First Nuclear Medicine Department
First formal Department of Respiratory Care under the direction of a registered respiratory therapist
First Intensive Care Unit
First Pulmonary Laboratory
First arteriography diagnostic equipment
First cardiovascular service and non-invasive blood flow
First Hyperbaric Medicine Department
First area hospital to acquire a 3 Tesla MRI – this technology is primarily used in research facilities and Memorial was one of just a handful of hospitals nationwide to acquire this technology.
In 2013, Memorial introduced robotic surgery to the community used to provide minimally invasive surgery in the specialties of general services, gynecology, urology and recently, thoracic.
Memorial was the first to purchase land in the Shiloh/O'Fallon area for future growth and development; subsequently opening Memorial Hospital Shiloh in 2016, a new 94-bed hospital in Shiloh.
In 2017, Memorial Belleville opened the first true hybrid operating room in the area allowing for more sophisticated vascular procedures and the ability to move from a closed to open procedure should the need arise.
---
Memorial is the only Magnet facility south of Springfield, Illinois.
Only 10 percent of hospitals nationwide have achieved this prestigious designation. Memorial received its first designation in 2008 and was designated again in 2012, 2018 and 2022.
---
Dr. Matthew B. Eisele was named Memorial first Medical Director in 1972, making him the first to hold a position of this type in central and southern Illinois.
Dr. Eisele was obstetrician/gynecologist in the community for 22 years before assuming the Medical Director role at Memorial.
---
Memorial's original logo came to be as the result of a contest in 1969.
Twenty entries were received, and the winning entry was submitted by Mrs. K.R. Harper of Collinsville. She stated her entry was a composite of her feelings for Memorial. "As a former Pink Angel, a happy mother of twins born in your maternity section and a mother praying for her infant sons' recovery from flu meningitis."
---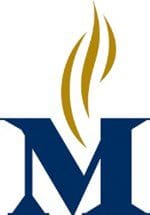 The "rays" on Memorial's logo have a special meaning.
According to Mrs. Harper, the rays on her design reflect, "the glory of God as exemplified by the Memorial employees, medical staff and the untiring members of the hospital Auxiliary." Over the years, the original design has been altered slightly, however, special care has been taken to maintain the integrity and meaning of the original design.
---
The sculpture at the main entrance of Memorial Hospital Belleville was commissioned and donated by the Auxiliary to commemorate Memorial's 50th Anniversary.
Designed by Belleville artist Gary Karasek, "Rays of Success" also is part of Art on the Square's Sculpture in the City Program. The design embodies the key elements of Memorial's logo. The brass piece on top of the 18-foot-tall sculpture was fabricated by hospital board member Jeff Lutz of Century Brass using materials from Memorial Foundation's previous donor recognition system. The sculpture was dedicated in September 2009 after completion by the artist.
---
Memorial Care Center was the first St. Clair County extended care facility to be owned and operated by a hospital.
Formerly known as Memorial Convalescent Center, Memorial Care Center was purchased in 1964, making it the first St. Clair County extended care facility owned and operated by a hospital. Now known as Memorial Care Center, the 82-bed facility is Medicare approved and is managed by Bethesda Health Group. It has been named one of the best nursing homes in America by U.S. News and World Report for 13 consecutive years.
---
COVID pandemic
Since Memorial celebrated its 60th anniversary, the COVID pandemic changed the world as we knew it. Memorial cared for the majority of COVID patients in St. Clair County, stood up a testing center, vaccination clinic and monoclonal antibody infusion center as well as learned new ways to deliver care.
---
Memorial Family Care Birthing Center at Shiloh
has this area's only Level IIE nursery staffed by a neonatologist from Washington University Physicians in Illinois and can care for babies as young as 30 weeks. In addition, it also has this region's only OB emergency department on the nursing unit.
---
Memorial Hospital Shiloh has Siteman's only Illinois satellite facility
In January 2020, Siteman opened its first Illinois satellite location – the only National Cancer Institute-designated Comprehensive Cancer Center in the region.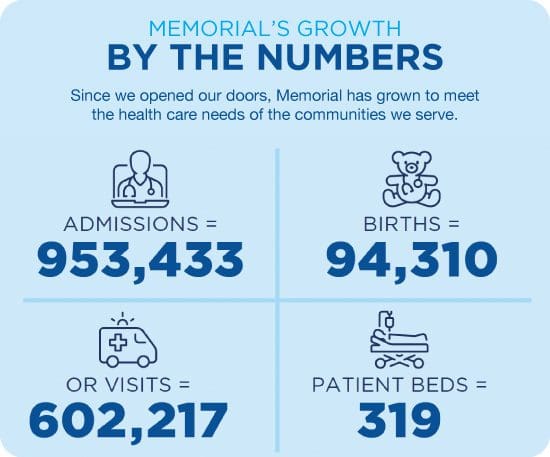 ---