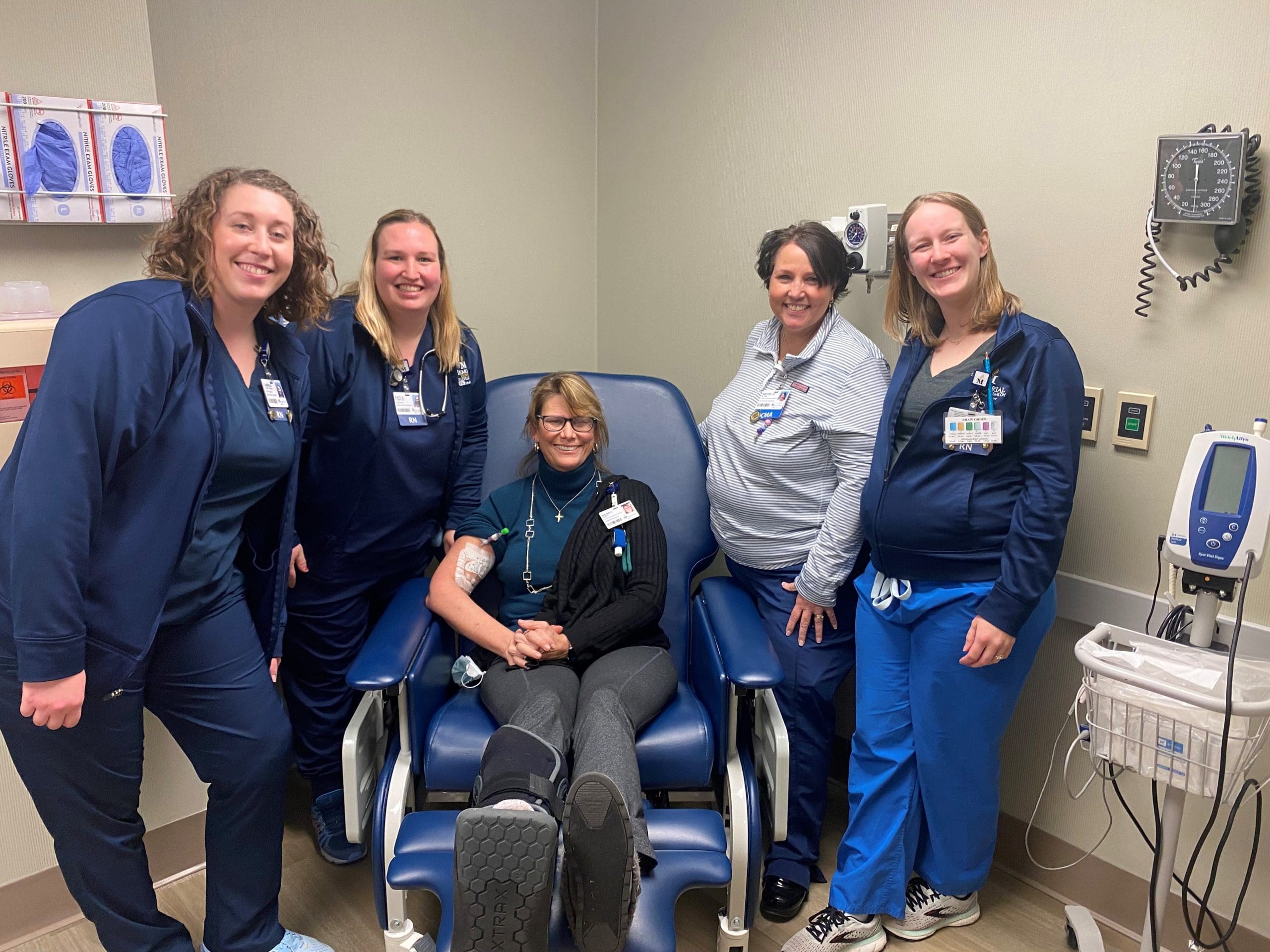 Memorial Hospital Belleville offers a variety of outpatient infusion and injection services in its Infusion Center. The Center also provides nursing care for complex wound vac patients and routine central line care.
This center is an important addition to our services as patients previously had to travel to receive this type of care, said Kelly Crawford, assistant nurse manager.
"The community had to travel far distances to receive specialty medications for their complex conditions," Crawford said. "Now, they can receive these treatments close to home, saving time and frustration. Some patients come to us twice daily, and a majority come weekly or monthly. The amount of time and resources saved for these patients by staying within their community is huge."
Currently seeing approximately 200 patients per month, the Infusion Center still has plenty of room for growth, said Vickie Henry, RN, patient care manager. She said this service initially began as a way to expand services and provide blood transfusions to patients.
"When I took on the role of manager 10 years ago, these patients were mingled in with surgical patients in our department," Henry said. "It wasn't long after that when we were able to expand our physical area that we were able to provide services to this patient population away from surgical prep patients. In the height of COVID, we repurposed the Infusion Center in order to administer monoclonal antibodies to our community. During that time, we infused more than 30 patients per day."
The Infusion Center offers treatments for conditions such as Crohn's Disease, autoimmune diseases, immunodeficiency conditions, multiple sclerosis, rheumatoid arthritis, osteoporosis, anemia, Non-Hodgkin's Lymphoma, dermatological conditions and many more. All nurses are trained in the insertion and removal of port-a-catheters, midline catheters and peripherally inserted central catheter (PICC) lines.
"All of these lines ensure reoccurring patients who come to the clinic on a scheduled basis for their treatments do not need a new IV inserted at each visit," Henry said.
Wendy Smith, Memorial Foundation program manager and a recent patient in the Infusion Center, developed an infection when her body rejected the hardware used to surgically repair her broken foot and ankle.
"In early December, while nursing an already-injured right knee and femur, I fell on my basement stairs and broke 20 bones in my right foot as well as both sides of my ankle," Smith said. "I had surgery on December 23 where Dr. Jason Wiechert, BJC Medical Group of Illinois orthopedic surgeon, placed 14 screws in the top of my foot as well as a plate and screws on the outside of the ankle. Post-surgery, the top two incisions did great, but the ankle continued not to heal. The doctor took the plate and screws out on January 23 and checked for a staph infection, which was found positive."
After consulting with the infectious disease specialist, Smith went to the Infusion Center to receive a PICC line and schedule antibiotic infusions every 12 hours. Smith was able to eventually set up home health and receive home infusions but went to the Center twice a day for two weeks before setting up home health.
Crawford said antibiotic infusion regimens allow the medication to reach the patient much faster than oral antibiotics.
"The antibiotics are placed directly into the patient's vasculature through an IV or PICC line in Wendy's case," she said. "Oral antibiotics have to be digested before they reach the bloodstream, so it takes longer to take effect. In addition, the concentration of IV medications can be higher, which is useful for patients who have severe infections."
Smith said the care team in the Infusion Center surpassed all expectations and helped ease her fears.
"Every team member I have worked with is awesome," Smith said. "This is one of the most caring, kind and thoughtful places I have ever had treatment. If they see me at the door in my wheelchair, they come take me to my room. If it's cold, they bring a warm blanket. The professionalism and knowledge you expect, but the kindness, caring and thoughtfulness is overwhelming. They care about their patients and address every need that is within their realm."
Smith said she still has a few more weeks of at-home infusions, another surgery to remove additional hardware and physical therapy to complete her healing journey. She said she's most looking forward to playing in the fall Memorial Foundation golf tournament. Her advice to current and future patients is to communicate everything to your care team.
"It is a scary thing to have to get a PICC line," she said. "Share your fears with the staff – this is very serious. Write down your questions that come up in the middle of the night and ask all of them – especially the ones you think are silly. They will take you very seriously and do all they can to put your mind at ease."
Crawford said anxiety and fear with patients is expected during transitional or vulnerable times. She said Infusion Center staff are expertly trained in their services, and they intentionally schedule a longer first visit to go over everything with the patient in depth.
"I love working in the infusion center because we are able to develop a long-term care relationship with patients," she said. "When they arrive, yes, many patients experience anxiety and have a lot of questions. The staff has respect for this vulnerable time and ensures patients have time to ask questions, discuss their treatment and settle into this new routine."
Crawford said staff helps patients overcome their anxiety through communication, education and even the use of distraction techniques such as music.
"It goes back to the goal of individualized care," she said. "Some patients just need to talk about what they've been through to develop trust with the staff. Whatever it takes, we do our best to make it a comfortable, anxiety-free experience. Our patients receive individualized care from some of the best physicians and also have the ability to stay close to home for their continuing treatment."
The Infusion Center offers next-day appointments for most medication orders and same-day blood transfusions. Patients and their care partners can remain together throughout their stay in private rooms. For more information or physicians needing to schedule a patient, call 618-257-4797.