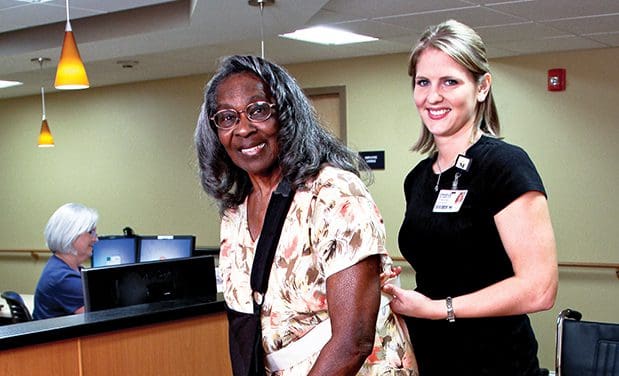 RN Residency Program
The RN Residency Program at Memorial is a year-long program designed to ease the transition into professional nursing practice.
Goals of the RN Residency Program
Enhance your role as a professional nurse
Improve job satisfaction
Foster the development of critical thinking skills
Provide peer support
Develop resource utilization
What is the Memorial's RN Residency Program?
Developed in 2006, the RN Residency program is designed for all new graduate nurses, nurses who have been practicing for less than one year, or new to the acute-care hospital setting. The RN Residency program is designed to provide classroom and clinical learning experiences for novice nurses. The program provides an opportunity for the resident nurse to reflect on precepted experiences in their clinical setting and connect nursing practice to evidence-based resources, policies, and procedures. The program takes a hands-on approach by offering both classroom instruction and practical exposure to a variety of areas in the hospital.
RN Residency Program: Additional Information
The RN Residency program introduces a team approach to professional development that includes the graduate nurse, nurse clinician, nurse manager, preceptor, and the RN Residency Program coordinators. The resident is offered the opportunity to be paired with a mentor during the first year of practice. The mentor program is designed to help the resident transition into their new role and help to achieve processional goals. The RN Residency Program uses the American Nurses Association's Scope and Standards of Practice, Patricia Benner's Novice to Expert Theory (based on the Dreyfus Model of Skill Acquisition) and Memorial's Professional Practice Model, Relationship-Based Care, patterned after Dr. Jean Watson's Theory of Human Caring.
Professional standards for practice that are incorporated include, but are not limited to:
Nursing process
Nursing skill acquisition
Creating a caring and healing environment
Improving communication
Developing leadership skills
Conflict resolution
Teamwork
Accountability
Delegation
The program gives the resident nurse specialized, on-the-job training, and exposure to many aspects of nursing in a hospital setting. Residents can explore other areas of nursing, often coming away eager to learn more about a particular area or specialty.
Skill Days and Themed RN Residency Sessions
RN Residency Program participants attend Skill Days that include hands-on practice with skills and equipment used for everyday practice. Residency classes include topics such as:
Skin and nutrition
Respiratory
Cardiology
Neurology and Mental Health Emergencies
Perioperative nursing
Med/Surg
Mock codes via simulation
End of life & Post-Mortem Care
Professional Development
Professional Development Program (PDP)
The BJC HealthCare Professional Development Program (PDP) promotes the lifelong pursuit of expertise in the clinical environment and provides an opportunity for professional growth and advancement. Application and promotion into the BJC PDP Program is a voluntary opportunity for clinical staff members, including nurses, to be recognized for professional and career development through recognition and compensation. Eligibility to participate includes being employed as a nurse for one year at BJC HealthCare.
The PDP program has the following objectives:
Provide an opportunity for the development of a career path to recognize practice excellence and promote leadership, practice, collaboration, academic and community service excellence.
Encourage exemplary practice, new knowledge, and innovation
Recognize and reward front line staff that engage in clinical inquiry, education, quality, research projects and evidence-based projects to improve empirical outcomes.
The PDP program was built based on the Patricia Benner's Novice to Expert theory of clinical nursing practice. The American Nurses Association Scope and Standards of Practice were also used as a guide to develop the criteria.
For a nurse to gain entry to the program or promote to a higher level, the following components must be met:
Electronic submission of a completed program rubric and scoring assessment
Manager endorsement and validation that the nurse has met the eligibility guidelines
Reflection Activity/Case Study reflecting upon the nurse's clinical experience with the past 12 months
A completed Curriculum Vitae (CV) providing a summary of experience and skills
Completion of a Scholarly/Evidence Based Practice/Performance Improvement Project
Interview with the Professional Development Program Committee
For questions or more information about this program, contact the local Memorial team via email at [email protected]