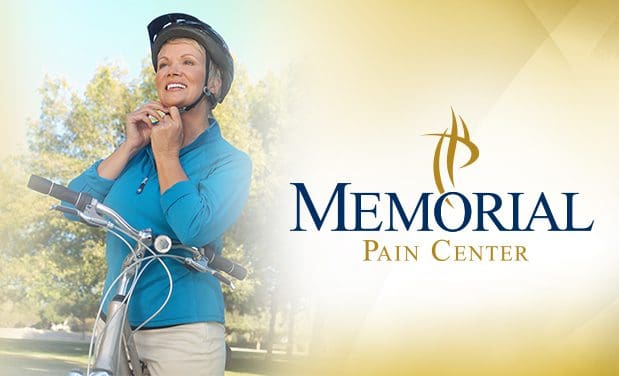 Here is what you can expect by visiting The Pain Center at Memorial.
What We Do
The Pain Center at Memorial offers procedures designed to reduce your pain. This most often takes the form of a series of two to three injections over the course of four to six weeks that will temporarily numb your pain and reduce swelling and inflammation in the tissues surrounding nerves that transmit pain signals. Interventional pain treatments provide relief for varying lengths of time, and the results may differ from patient to patient.
The Pain Center also offers prescription medications for pain. Our physicians usually use medications such as muscle relaxants, non-steroidal anti-inflammatory medications, topical anesthetics, and other medications that have been shown to have some benefit in relieving pain, e.g., anti-depressants and anticonvulsants. At the end of your treatment you will be returned to your referring physician or primary care physician for ongoing management of your pain condition, and you will need to get your medications from them at that time.
Pain can be a long-term condition and not every patient obtains complete relief following a series of treatments. Our goal at The Pain Center is to help you gain control of your pain, not necessarily eliminate it, so that you can live a more active and productive life.
What We Are Unable to Offer
The treatments we provide can be very effective at relieving pain, but they normally cannot cure the underlying conditions that cause the pain.
We are not able to promise you how much relief you will get from treatments or medications.
Since The Pain Center physicians do not manage your overall health they do not make disability determinations or complete forms for disability claims. Please see your primary care physician for assistance with these matters.
What We Ask of You
To get the most benefit from your pain treatment:
Communicate openly and fully with your physician regarding your pain level, activity level, sleep patterns, mood, and any side effects of any medications prescribed for you.
In addition to your treatments, your pain physician may prescribe physical therapy and recommend an exercise program, weight loss, changes in diet, and possibly chiropractic care for you. It will be important for you to actively participate in all aspects of the pain management program to achieve the best results.
Please keep your appointments as scheduled, or call at least 24 hours ahead of time if you cannot keep an appointment. Also, arriving on time will avoid any need for rescheduling!
Please notify your Pain Center physician if you go to an emergency department due to pain.
Hospital policy requires us to positively identify all patients at the time of check in, so we ask that you please bring your insurance card(s) and driver's license with you to every visit.
NOTE: More than one physician may be seeing patients in the clinic each day. This may result in giving the impression that patients who arrived after you are being seen before you, but we see all patients in the order of the appointment time with their physician, not in the order of arrival time.
To Ensure Your Safety if Medications Are Prescribed
Advise your pain physician of all medications you are taking, including prescription, over-the-counter, and herbal remedies.
At each visit, let us know if there have been any changes in your overall medical condition or in any medications prescribed for you by another physician.
Since the use of other medication(s) may interfere with your treatment, please inform other providers who may treat you for any other medical problem(s) that you are enrolled in a pain management program.
For your safety, take your prescribed medications exactly as prescribed, and do not use alcohol while taking them.
For the safety of others, do not allow anyone else to have access to your medications.
Refills for pain medicine are done during clinic visits. If a refill is needed at another time, please have your pharmacy fax a refill request to us at (618) 257-4559. Please allow up to three days for it to be processed and refilled.
If you expect to be out of the area at the time a refill is due, please make arrangements to get your refills in advance of the planned departure date.
If medications are prescribed for you and you later become pregnant, notify your Pain Center physician right away.
You Can Expect Exceptional Healthcare and Compassionate Service
We are committed to providing you with the best care available and to treating you as our special guest each time you are here. You can expect to be greeted with a smile, to have the staff introduce themselves to you, and to have each staff member take the time to give focused attention to your needs and concerns.
THANK YOU FOR CHOOSING MEMORIAL. We understand that you have choices about where you go for healthcare, and we feel honored that you have trusted us with your pain care needs. You are in capable, caring hands at The Pain Center at Memorial, and we look forward to seeing you.