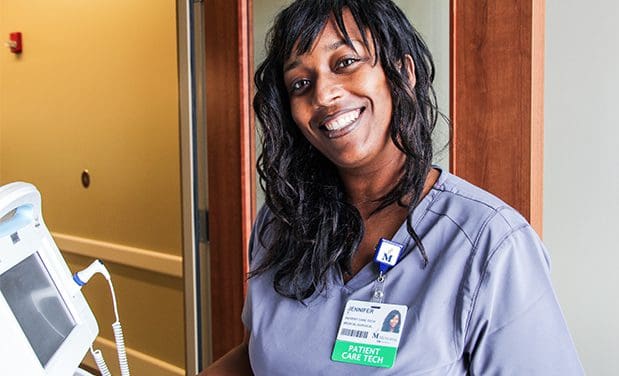 Memorial Hospital is committed to providing excellent patient care. One way we accomplish this is by providing outstanding nursing care to patients.
Patients, family members, and the public may request nurse staffing schedules from Memorial Hospital's nursing administration office. Please contact nursing administration Monday through Friday from 8 a.m. to 5 p.m. at:
Memorial Hospital Belleville: (618) 257-5210
Memorial Hospital Shiloh: (618) 607-3213
To obtain information at other times than those listed, please call the hospital operator and ask for the nursing supervisor.
Advance Directives
An advance directive allows you to provide instructions on your healthcare in the event that you can no longer make these decisions. Make future health decisions now.
Our Service Evaluation Program
Please tell us about your experience. After discharge, you might receive a phone call to talk about your hospital stay. Memorial wants to be the best. If someone took excellent care of you, please let us know. Thank you for trusting us to care for you.
Complaints and Concerns
We want you to be informed and satisfied with your care. If you have concerns about your care, we would appreciate the opportunity to resolve those issues through discussion with our Patient Advocate at (618) 257-5662 or click here to send an email. You may also contact the Patient Advocate for concerns related to services for disabilities.
Voice a complaint and/or grievance related to care or billing practices by contacting the caregiver, department manager, financial counselor, or patient advocate. A written submis­sion of complaint may be mailed to Memorial. The patient or his/her representative may contact the Illinois Department of Public Health at 1-800-252-4343 or 1-800-547-0466 if hearing impaired.
Special Communication Services
Memorial Hospital provides free aids and services to people with disabilities to communicate effectively with us, such as:
Qualified sign language interpreters.
Written information in other formats (large print, audio, accessible electronic formats, braille).
Memorial provides free language services to people whose primary language is not English, such as:
Qualified interpreters.
Information written in other languages.
If you need these services, contact Social Services:
Memorial Hospital Belleville
(618) 257-5420
(618) 257-5210 after hours/weekends
Memorial Hospital Shiloh
(618) 607-3139
(618) 607-3214 after hours/weekends
If you believe that Memorial Hospitals have failed to provide these services or discriminated in another way on the basis of race, color, national origin, age, disabil­ity, or sex, you can file a grievance with:
BJC HealthCare Corporate Compliance
4901 Forest Park Avenue
St. Louis, MO 63108
(314) 273-1487
TTY 1-800-735-2966
[email protected]
You can file a grievance in person or by mail, fax, or e-mail. If you need help filing a grievance, the BJC Corporate Compli­ance Department is available to help you. You can also file a civil rights complaint with the U.S. Department of Health and Human Services – Office for Civil Rights electronically through the Office for Civil Rights Complaint Portal or by mail or phone at:
U.S. Department of Health and Human Services
200 Independence Avenue, SW
Room 509F, HHH Building
Washington, DC 20201
1-800-368-1019
TDD 1-800-537-7697
Complaint forms are available at http://www.hhs.gov/ocr/office/file/index.html.