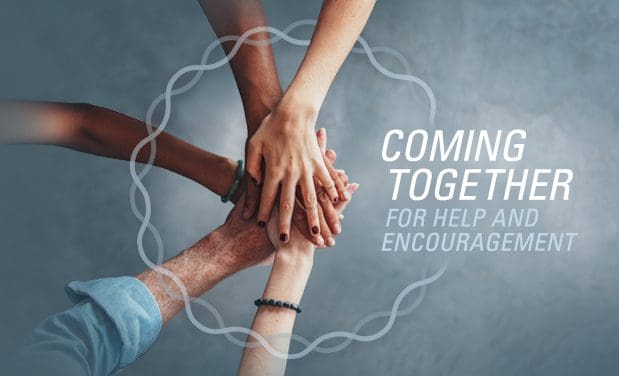 Memorial brings help and encouragement through our support groups.
Memorial has a number of support groups to help you through injuries and illnesses.
Breast Cancer Support Group
Hope Blooms allows women who have been diagnosed with breast cancer to express themselves to others who have had similar experiences. The group meets on the second Tuesday of each month at 6:00 p.m. at various locations. Please call Memorial's Breast Health Center at (618) 607-1202 for more information.
Diabetes Support Group
The Diabetes Support Group is for those with diabetes, their families, and people who had their lives affected by diabetes.
This group meets the fourth Monday of each month, unless otherwise noted, in Diabetes Education Classroom at Memorial Hospital Belleville from 9:00 a.m. – 11:00 a.m. The Diabetes Education Classroom is located on the lower level of the hospital at 4500 Memorial Drive in Belleville, IL near Entrance C.
For questions or more information, please call the Center for Diabetes Education at (618) 257-5861.
Heart Failure Support Group
The Heart Failure Support Group includes a variety of discussion topics from healthy cooking to exercises to questions and concerns for those who have heart failure. Topics of discussion include:
Heart Failure 101
Healthy Cooking
Yes, It Is Water Weight
Exercise
Palliative Care for a Poor Pump
What Can I Do?
Meet The Pharmacist
For more information, please call Dani Schrage at (618) 257-5797.
Laryngectomy Support Group
The Laryngectomy Support Group (NuVoice Club) meets quarterly and provides laryngectomees and their families with pertinent information for their specific disorder. The group meets in the Community Conference Room at Memorial Orthopedic and Neurosciences Center, 4700 Memorial Drive, in Belleville, IL.
Upcoming Meetings
For more information, please contact Gwen Haake, Speech Pathologist, at (618) 767-3936 or [email protected], or Memorial Hospital's Speech Therapy Dept. at (618) 257-5255.
Pulmonary Rehabilitation Support Group
The Lively Lung Support Group focuses on different topics each month and is for people with lung diseases and their families.
A Cardiopulmonary Rehabilitation staff member is present to address questions, ideas and solutions. Meetings are held monthly (except June – August and November) at Memorial Orthopedic and Neurosciences Center, 4700 Memorial Drive in Belleville, IL. For more information, please call Pulmonary Rehabilitation at (618) 257-5560.
May and December meetings are held at St. Luke's Parish Center, 226 North Church Street, Belleville, IL.
Spinal Cord Injury Support Group
Adults who have suffered a spinal cord injury and their caregivers are encouraged to participate in the Spine Injury Support Group. The group provides encouragement through treatment and a safe environment for people to share their experiences.
Time and location vary. Please contact Lindsay Boggio in occupational therapy for more details (618) 257-5758.
Stroke Support Group
This group is for people who have experienced a stroke or brain injury, and their families. Participants will learn how to heal physically, cognitively and emotionally. The topics vary from educational speakers to community outings.
The group meets once every other month. To join, contact Occupational Therapy at 618-257-5758 to be added to a call/email list. We contact everyone on the call list to provide information on time and location.